Barred Owl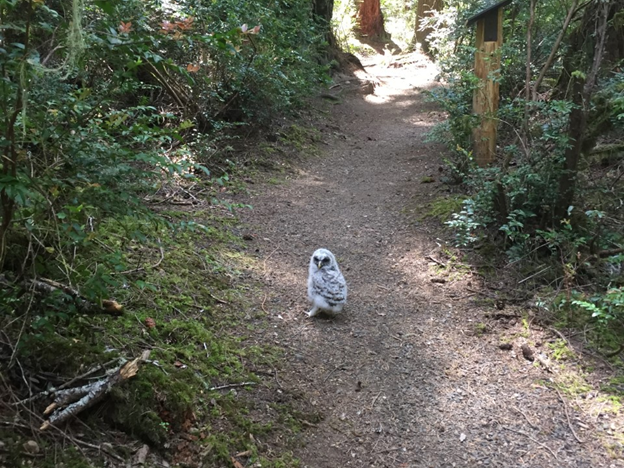 For a couple of months now, I have been hearing the call of a Barred Owl coming from our Big Tree Loop Trail. The call, which sounds like "Who cooks for you", is all too familiar to me at this point, following me from the forests of Southern Indiana to the rugged mountains of the Appalachian Trail. Hearing the call has always brought me joy, knowing that such a wondrous forest creature is in its rightful place. That is until here and now, where the Barred Owl of the east is displacing our endemic Spotted Owl.
Nevertheless, it was still a special moment seeing a fledgling Barred Owl this past week on the trail, just below the giant Douglas Firs of the Alderbrook Woods. A group of hikers did the right thing by leaving the baby owl and reporting it to us. It was a tough decision, given the complexity of the issue with barred owls technically being an invasive species, but we decided the best course of action was none at all, besides closing the section of trail to allow nature to play out.
The little guy looked healthy, and mom or dad kept watch from the nearby low-lying hemlock branches. Owlets are surprisingly good climbers, using their sharp talons and beak to climb dozens of feet back to the nest. Sure enough, by the time I returned the next day, the baby owl was gone. My guess is that it made it back into the thick canopy of trees safely.
This special occasion with the owlet reminded me that we are a part of an intricate system, and we need to always respect wildlife by giving them plenty of distance and never attempting to feed them.
If you come across an animal, rare plant, or have a cool story from your time in the Alderbrook Woods, we would love to hear about it at trails@alderbrookresort.com. And if you think we need to know urgently about any situation on the trails, go ahead and give the resort a call at (360)898-2200.
Good Journeys,
MS