Bigleaf Maple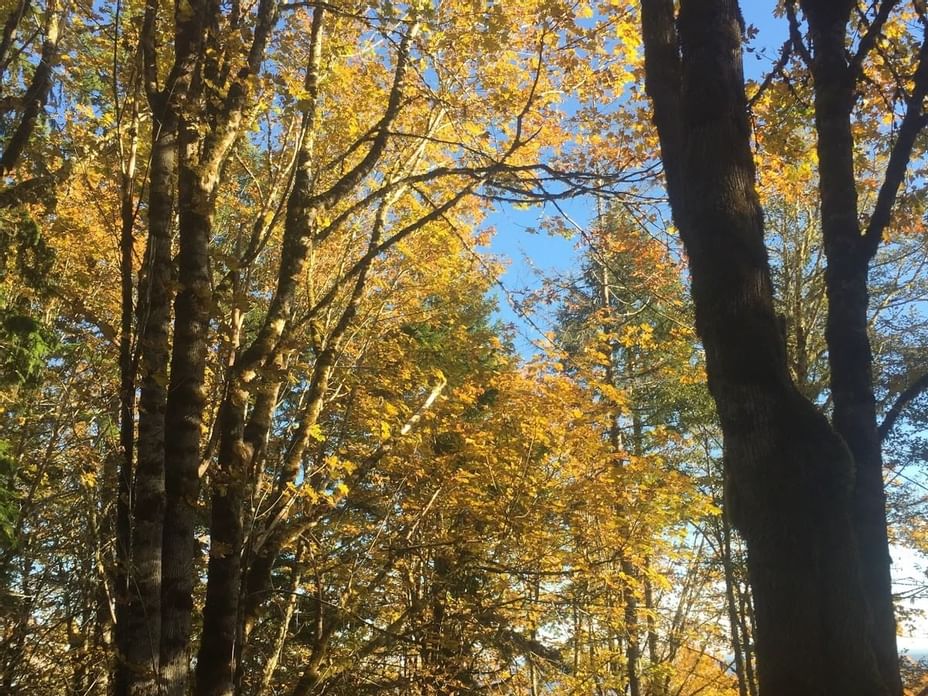 When I came to the Evergreen State, I thought for sure that if there was one thing I would miss about my home state of Indiana, it would be the fall colors. Boy, was I sure wrong, thanks to the Bigleaf Maple, or Acer Macrophyllum. Set against the backdrop of the evergreen coniferous trees, the golden maples around Alderbrook Resort and Spa at this time of year are absolutely breathtaking. I'm sorry good ol' hoosier state, but the PNW has done it again.
Towering to over a hundred feet in the air, the bigleaf maple deserves its name, producing leaves up to a foot in diameter. The branches are often covered so thick with mosses, lichens, and ferns that the tree will send out "canopy roots" into these epiphytic mats to collect extra nutrients and water. Pretty cool stuff.
Known as the paddle tree in many First Nation languages because of its use for canoe paddles, we use the lumber for many purposes today, including instrument bodies and veneer paneling. The maple syrup you put on your pancakes likely didn't come from these trees, having only about half the sugar that the Eastern Sugar Maple has in its sap.
Whether it's on a drive around the Olympic Peninsula, a hike along the Licorice Fern Trail, or a well-deserved break on the resort's Hood Canal waterfront, the bigleaf maple will make itself known at this time of year. As for the other times of the year?... Look for the tree so covered in moss that you can't even recognize it.
All the Best,
MS