Birding 101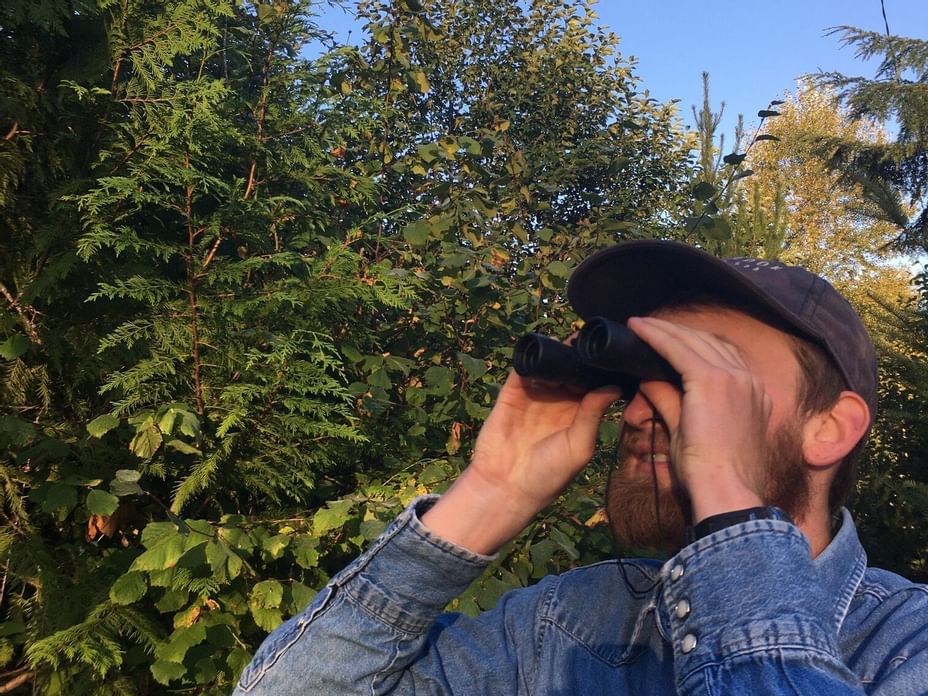 One of the best things about birdwatching is that you really don't need anything. With that being said, there are a few things that I like to have with me when birding.
Binoculars are the quintessential piece of birding gear. Generally the bigger the better. My small pair usually serves me well on the trail. Although bulky, a spotting scope provides the most magnification, making it good for a fixed birding spot like the Hood Canal waterfront.
A field guide is a great tool for studying birds. "The Sibley Guide to Birds" is the book I choose to have around, but there are several good options on the market.
Mobile applications, like Merlin Bird ID, are super helpful. They're usually free, easy to use, good for on-the-go, and have audio recordings of songs, calls, and other sounds birds make.
A journal is great for recording your observations and sketches. Trust me, it's easy to forget the details!
There are some other things to be mindful of while planning your next birding excursion. Observation is key. Sure, that might be obvious, but the bird will fly away the moment you start flipping through your field guide. So enjoy it while it's there, and try to recognize as much as you can about what it looks like, sounds like, acts like, and where it is.
The most important thing is to be a good steward. Never get too close to wildlife. My favorite way of figuring out if I'm too close is by extending my arm straight and sticking my thumb up. If my thumb doesn't entirely cover up the bird or other critter, then I am entirely too close!
Remember to have fun with it, cherish your time in nature, and share with others. I'm always here as a resource, trails@alderbrookresort.com, and I look forward to seeing you soon!
-MS