Canal Confections Lollipop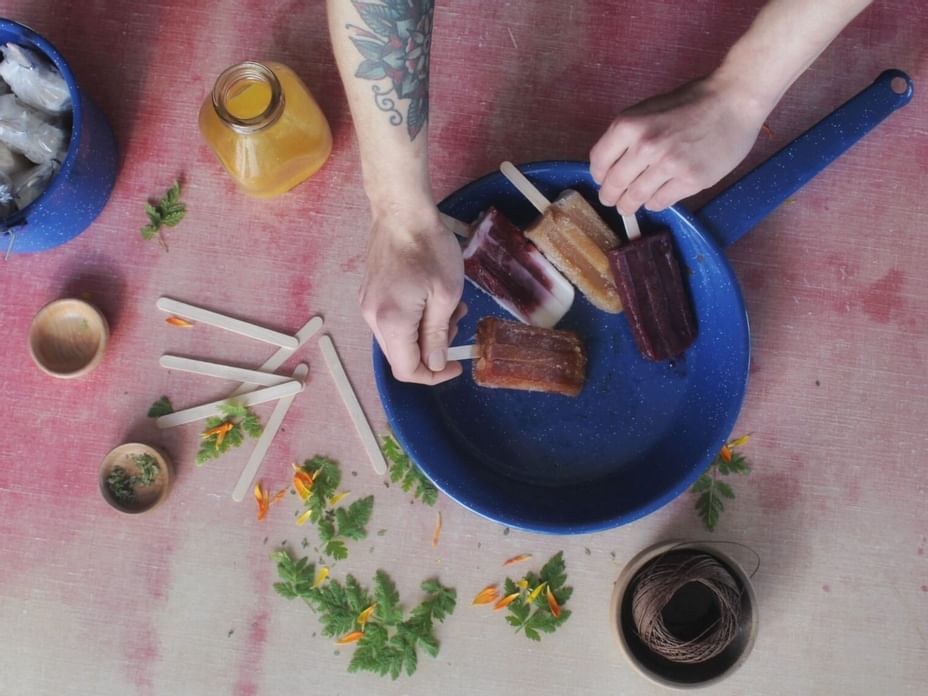 A Hood Canal native, Dallas Miller renders confections in canal kitchens such as the Union City Market and Alderbrook Resort & Spa. Dallas contributes to a creative collective of women focused on showcasing Hood Canal's bounty and beauty. Purchase handmade confections at Union City Market.
Fir & Honey Lollipops
Fir Tip Water
1 cup Fir tips
2 cups water
Instructions
Wash the fir tips and combine them with the water in a saucepan. Heat until the water is just about to boil and turn off the heat. Cover the saucepan with a lid and let steep until cool.
Once the water is cool, strain out the fir tips. The fir water can be stored covered in the refrigerator for up to one week.
Fir and Honey Lollipops
2 cups sugar
½ cup honey
½ cup light corn syrup
¼ cup fir tip water
Prepare silicone lollipop molds by inserting the lollipop sticks halfway into the mold, no cooking spray is necessary. A silicone baking mat can also be used instead. Putting the molds on a baking pan makes them easy to move as they are cooling.
Combine the sugar, honey, light corn syrup, and fir tip water in a heavy bottom saucepan. Be sure not to stir the sugar mixture once it has started cooking, and wipe down any sugar crystals that stick to the side with a wet cooking brush. Insert a candy thermometer and cook until the sugar mixture until it reaches 300°F.
Once the sugar mixture has reached 300°F, remove it from the heat and carefully pour it into the silicone molds. The hot sugar mixture should cover above the lollipop stick. After filling half of the molds, rotate the lollipop sticks to ensure they are fully covered. If using a silicone baking mat, pour circles about 1-inch in diameter. Place lollipop sticks into circles once half the sugar mixture has been poured and rotate.
Let the lollipops cool and dry, then wrap individually in packaging.
Photography by Jasmine Olson of Urbana West.