Meet Our Executive Chef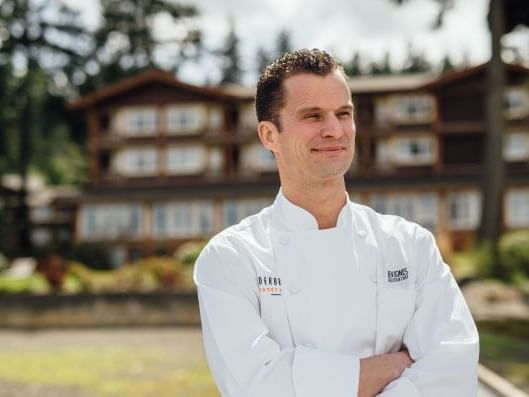 MEDIA CONTACT:
Rebecca Mosley| Kiterocket for Alderbrook Resort & Spa | 206.957.6550 | rebecca@kiterocket.com
Alderbrook Resort & Spa Welcomes New Executive Chef Ben Jones
Chef Ben Jones brings his passion for fresh, local fare to Hood Canal
UNION, Wash., Feb. 01, 2018 – Alderbrook Resort & Spa, located on the picturesque Hood Canal two hours west of Seattle, is pleased to announce the appointment of Ben Jones as Executive Chef. Chef Jones was most recently Executive Chef at The Resort at Paws Up in Greenough, Mont. and brings skills in fine dining, banquets, off-site catering, and large special events. He also has extensive experience in fostering community relationships and utilizing local fare, which is a key pillar of Alderbrook's culinary program.
"At Alderbrook, we always want our guests to feel like they are truly indulging in the Hood Canal spirit," said Shaun Tucker, general manager at Alderbrook Resort & Spa. "The culinary program is a big part of this – whether it's eating fresh oysters and clams harvested from our beach, mushrooms, and huckleberries foraged from our nature trails, seasonal squash grown by a nearby farmer – and we're thrilled to have Chef Jones' expertise in using locally-sourced ingredients in an elevated and refined, but approachable, way."
A long-time devotee to all things food – his first word was "ham" – Chef Jones knew at age 10 he wanted to become a chef and entered culinary school at Nelson Polytechnic in New Zealand at 17. He then completed a two-year training with Master Chef Harmut Handke in Columbus, Ohio before working at several restaurants and hotels in Chicago, including work alongside Graham Elliott at TRU and heading up the Garde Manger team while Rick Tramanto was writing his Amuse Bouche cookbook. Jones also served as opening Lobby Chef de cuisine at Peninsula Hotel, which received five stars and five diamonds in its first year. Five years later, Chef Jones made the move to Montana where he continued developing his palate in both restaurant and resort settings. He has tackled a variety of culinary experiences outside of the restaurant, which included cooking classes, television cooking demonstrations, and joining the James Beard House as a guest chef in 2016.
In his role at Alderbrook Resort & Spa, Chef Jones will be responsible for overseeing the food and beverage operation while working to elevate the culinary program. His vision is inspired by "fresh and clean" cuisine with fresh catches, fresh harvest, and locally-sourced products at the center of his new menu, which guests can begin enjoying this spring. Some of his favorite ingredients include Hatch chiles, a nod to his upbringing in Albuquerque, N.M., and the Pacific Northwest's white truffles, fiddleheads and salmon, thanks to spending 11 years of his childhood in Rogue River, Ore.
"I couldn't be more excited to bring my culinary philosophies, experience, and enthusiasm for fresh, local fare to the Alderbrook team," said Executive Chef Ben Jones. "I strive to lead a team based on my mantra – live life, love food – and am looking forward to forging relationships with local purveyors who also share my passion for finding the best the region has to offer."
For more information on the Restaurant at Alderbrook Resort & Spa, click here. To read more about Alderbrook Resort & Spa and its accommodations, visit the Specials & Packages page on AlderbrookResort.com or call (360) 898-2200.
About Alderbrook Resort & Spa:

Alderbrook Resort & Spa evokes the calming spirit of the Hood Canal. Less than two hours west of Seattle and less than three hours north of Portland, yet a world away from every day, the Resort is nestled on the scenic south shore of Hood Canal overlooking the Olympic Mountains and is ideal for a getaway or conference retreat. Featuring 77 luxury guest rooms and 16 private one and two-bedroom cottages, Alderbrook Resort & Spa's thoughtfully appointed amenities include premium linens, soaking tubs, a world-class full-service spa, a waterfront saltwater pool, and a welcoming stone fireplace and library in the lobby, as well as access to over three miles of exclusive guest hiking trails, the 54-foot luxury Lady Alderbrook cruise boat, the Hood Canal Marina and a neighboring PGA-class golf course and clubhouse. Named "Best Northwest Resort" by Seattle magazine in December 2017 and ranking as one of the top hotels with meeting space by Northwest Meetings + Events in October 2017, the Resort also placed in the top three finalists in Seattle Bride's "Best of 2017" for waterfront wedding venues. The property also houses The Restaurant at Alderbrook, which specializes in the region's best local ingredients and world-class wines. For more information, please visit www.alderbrookresort.com.