Meet our Team: Kimberly Wyckoff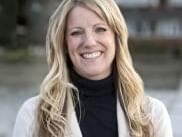 With more than 20 years of experience in the hospitality industry, Kimberly was drawn to Alderbrook Resort & Spa because of its beauty and healthy work-life balance. After 10 years of being a part of the Alderbrook family, she still strives to create that same special feeling for each client and guest. It is not only a place of work but also where she and her family vacation to make their own Northwest memories. Kimberly resides in Woodinville, WA with her husband and two children.
Contact Kimberly at kimberly.wyckoff@alderbrookresort.com or 206.795.7309.
Corporate retreats, meetings, and conferences at Alderbrook Resort will inspire and awe even the most jaded attendee. Click HERE to watch our Group Retreat movie.
Accommodating groups from 12 to 200, it starts with exceptional meeting facilities in a gorgeous setting and genuine service. Alderbrook Resort & Spa offers 7,000 square feet of flexible meeting space with state-of-the-art multimedia presentation technology and high-speed internet access. Our grand ballroom is filled with natural light and has stunning mountain, garden and water views. It's also adjacent to an inviting foyer ideal for conference registration, meeting breaks and cocktail receptions.
Our meeting facilities have easy access to expansive decks and waterfront venues. We can prepare a selection of snacks, a buffet, or even a beachfront barbecue. This is the quintessential place for people to unwind, get to know each other, and experience something out of the ordinary. Evening cocktails and stargazing. New relationships are forged. Old ones are reconnected.
The resort provides complimentary self-parking and valet parking service options for your event and meeting attendees.
Don't forget tee times at our PGA golf course. Or the Spa at Alderbrook. Chartered boat trips, tennis, kayak tours, and custom team building. Let us know what your group needs. We want to make it happen.