Pacific Dogwood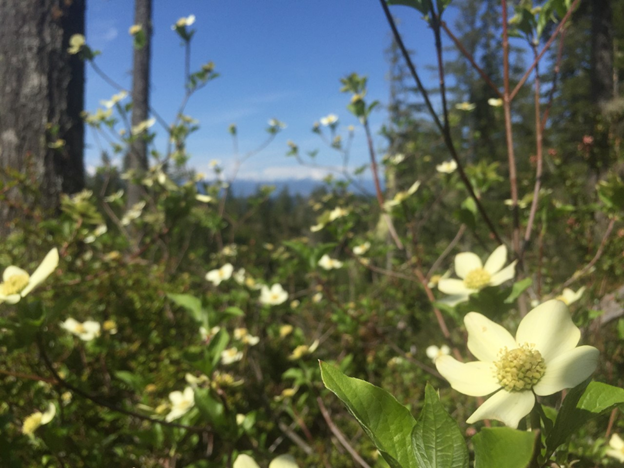 You don't have to go far to find beauty during this time of year at Alderbrook. The resort grounds are laden with plants in full bloom, and I could say the same about our trails. Yet if you are looking for an excuse to get out on a nice, long adventure, here is a good one: the Pacific Dogwoods on our Dogwood Ridge Trail.
With the recent warm weather, these small trees are covered with yellow blushed blossoms that make the trek very much worth it. If you don't make it out here soon, you might recognize the dogwoods later in the year by their nearly golf ball-sized red fruits, their second bloom, or their pink fall foliage. The edible fruits are coveted by the band-tailed pigeon, but not very palatable, as the old saying goes "the berries are unfit for even a dog to eat."
The namesake trail is the most remote we have to offer here at Alderbrook, making for a more secluded experience. You might as well make a day out of it by combining the Dogwood Ridge Trail with the Huckleberry Hillclimb and the Licorice Fern Trail to make a big loop. On a clear day, you're guaranteed grand views of the Olympic Mountains and a variety of pleasant forest niches. So, regardless of whether the Dogwoods are blooming, you're in for a real treat.
We hope to see you soon!
-MS