Packing Essentials for a Fall Adventure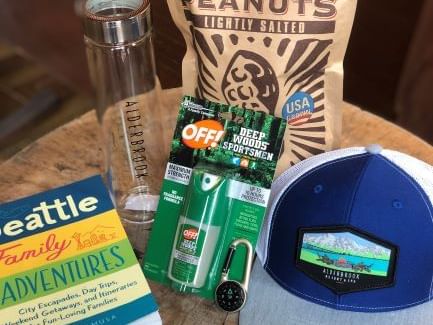 Now that it's officially fall and we can no longer depend on warm and dry weather, I want to share with you some tips I've learned, many times the hard way, to keep us all safe and happy in the outdoors. Here is my pack list, no matter how small the adventure:
1. Food and water: Eating a granola bar can be the difference between making a good and bad decision, and consequently a good and bad day. Don't let low blood sugar and dehydration get the best of you... bring a snack and reusable water bottle. Pick these up in the Alderbrook gift shop if you forgot to bring them from home.

2. Clothing layers: They don't call this a temperate rainforest for nothing. If there's one thing I learned in my half year on the Appalachian Trail, it's that even the best rain gear will soak through on a long, wet day. Remember to dress in layers and bring more clothes than you'd expect.

3. First-aid kit: Hopefully this will sit at the bottom of your pack and never need opened, but it's better safe than sorry. Be sure to throw some leukotape in the kit to best stop the most common outdoor injury… nasty blisters.

4. Map: We're lucky enough these days to have maps on our phones, like the AllTrails app, but there's nothing more dependable than a hard copy of a topo map and a compass. Pick up a complementary map of Alderbrook's hiking trails at the resort's front desk.

5. Good friends: Even if your favorite hiking partner has four paws and fur, outdoor adventures are too good to not bring along friends. At the least, let somebody know where you're heading and when you're expecting to be back. Your mother will really appreciate it.
Happy trails,
MS