Run Alderbrook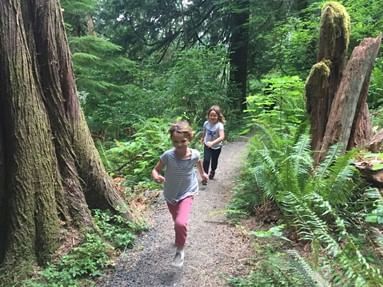 I'm always happy to see somebody run past me on the trails. They are usually smiling kids, eager to see what lies ahead. But adults, too, with a little sweat running down their face, let their bodies ebb and flow over the gentle hills of the Alderbrook Woods.
I'm set to do my first two "ultra-marathons" this fall, which is anything longer than a standard 26.2 mile marathon. One is a 50 kilometer race in the Olympic Mountains, and the other is a 50 miler in my home state of Indiana. I run because it's a good adventure, great exercise, and unbeatable runner's high.
But I'm still fairly new to this trail running thing, at least compared to my friend and veteran trail runner Karen Wiggins. She has run the Coyote Two Moon 100 miler, the Boston Marathon, and hundreds more. I recently caught up with Karen to prepare for my upcoming races.
MS: "Why do you like to run the trails at Alderbrook?"
KW: "I enjoy running there because the trails are really well maintained, shaded, and I can get a great workout without going too far. If the weather is really cold and snowy at higher altitudes in the mountains, I can still get about 1000 feet of elevation gain in five miles with no snow."
MS: "Do you have any advice for people that haven't run at Alderbrook before?"
KW: "Ditch the road running shoes and get a solid trail running shoe. My personal preference is the LaSportiva Mutants. Start out slowly and make sure to enjoy your surroundings. Hike the hills, and run the flats and downhill sections."
MS: "We aren't all as trail-hardened as you, so can the rest of us enjoy trail running, too?"
KW: "Clearly, I love longer distance running and the challenge associated with mountains. For me, the Alderbrook trails are a bridge for training between seasons. Other folks may be happy going no further than the trails at Alderbrook. There is so much beauty on those miles of trails to keep someone busy for a very long time!"
Don't just take my word for it… even an experienced trail runner agrees that the Alderbrook trails are quite the destination. So come, let yourself be a kid again, and run at Alderbrook Resort and Spa.
Run wild,
MS