Sullivan Family Blackberry Pie!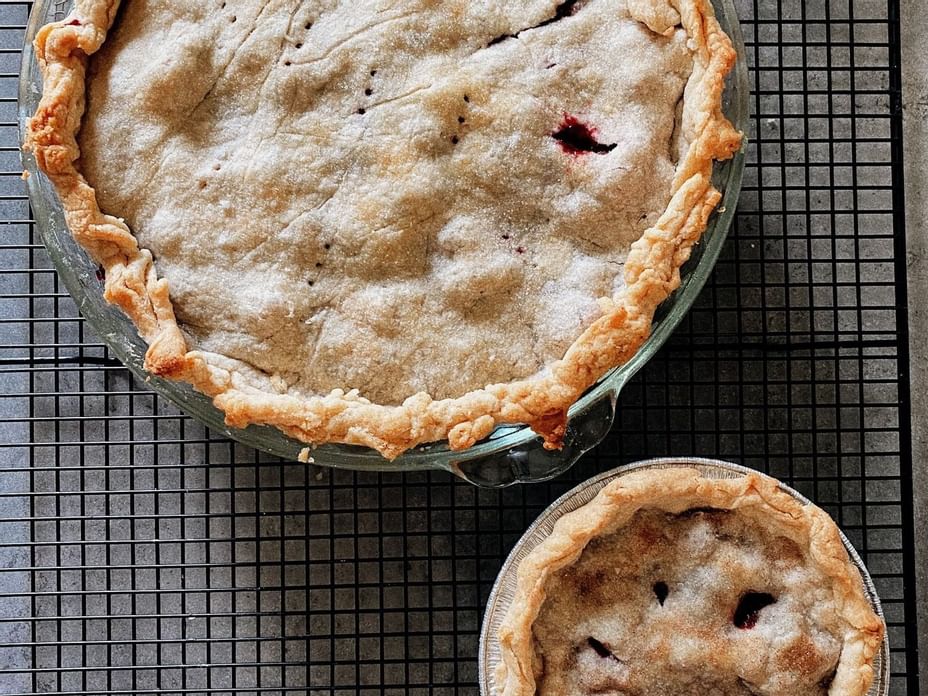 FORAGING
One thing I've learned quickly at Alderbrook is that there is an abundance of wild edibles. Trailing blackberry (Rubus ursinus), our only native blackberry, is a plant with a rich history and a sinfully sweet berry that you cannot miss out on. Salish peoples traditionally scrubbed the thorny stem on themselves before spiritual dances, and used the leaves and roots medicinally for stomach issues.
You can find the trailing blackberry running along the path here at Alderbrook with plenty of fruit during the summer. I recently found a family on our trails foraging for the berries to make blackberry pie, which they have been baking on the Hood Canal for six generations now. Luckily for us, they shared their secret recipe! Enjoy, thanks to the Sullivan family.
Sullivan Family Blackberry Pie Recipe
CRUST:
INGREDIENTS
• 2 cups all-purpose flour
• 2/3 cup shortening
• 1/4 tsp. salt
• 3-5 Tbs. ice water
PREPARATION
Blend together flour, shortening, and salt in a bowl with a fork or a pastry blender (or pulse in a food processor) just until mixture resembles coarse meal with some roughly pea-size butter lumps. Drizzle 3 tablespoons of ice water evenly over the mixture and gently stir with a fork (or pulse in processor) until incorporated. Squeeze a small handful: If it doesn't hold together, add more ice water, 1/2 tablespoon at a time, stirring (or pulsing) until incorporated, then test again. Do not overwork dough or pastry will be tough. Roll out between 2, lightly floured, sheets of wax paper for easy handling.
FILLING:
INGREDIENTS
• 3/4 cup sugar
• 1/2 cup flour
• 1/2 tsp. cinnamon (optional)
• 6 cups blackberries
• 1 Tbs. butter
PREPARATION
Heat oven to 425, prepare pastry
Mix sugar, flour and cinnamon in a large bowl. Stir in blackberries. Turn into pastry-lined pie plate. Dot with butter. Cover with top pastry that has slits cut into it; seal and flute. Cover edge with 2-to 3-inch strip of foil to prevent excessive browning. Remove foil during the last 15 minutes of baking.
Bake 35-45 minutes or until the crust is brown and juice begins to bubble through slits in the crust. Cool on rack. Serve warm if desired.
We love ours served a la-mode with locally sourced ice cream from Olympic Mountain Ice Cream (creme fraiche or madagascar vanilla)