The Hood Canal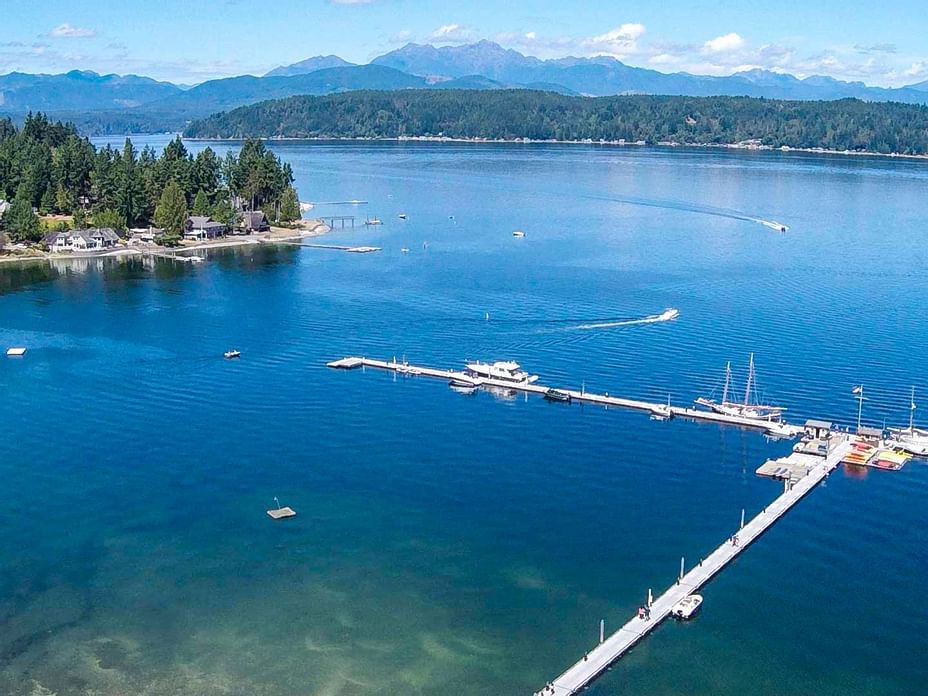 On the westernmost end of the Puget Sound is the Hood Canal. It's not actually a man made canal. In fact, it is the only fjord in the lower 48, which means it's an exceptionally long and deep inlet between steep sides. 600 feet deep in some parts, to be exact, with the neighboring Olympic Mountain peaks jutting up to almost 8,000 feet. The gouging glaciers of the Late Pleistocene geological era 13,000 years ago are to credit for such a spectacular topography.
The Hood Canal was named in 1792 after Admiral Lord Samuel Hood, a veteran of the Royal Navy in the American Revolutionary War. The Canal is sort of shaped like an L, with the top of the L joining the rest of the Puget Sound before letting out into the Strait of Juan de Fuca. You will find us, Alderbrook Resort and Spa, just east of the Great Bend, which is the turn in the L.
The waterway makes up an astounding array of ecological communities, from the Theler Wetlands on its eastern end, to the rushing rivers on its west. Whales, waterfowl, salmon, and seals make up a fraction of the wildlife.
Just another thing that makes the Canal so unique is its world-renowned shellfish. There is a sill, or a relatively shallow section of the Canal towards its northern end that causes poor water circulation. This leads to high nutrient levels and algal blooms, which benefits the filter feeders, like oysters, clams, and mussels that eat the algae.
Beyond Alderbrook's forested trails and waterfront center, the Hood Canal has endless recreational opportunities. You can get a taste of those must-have oysters from the Restaurant at Alderbrook or just down the road from Hook and Fork at Union City Market. Regardless, you've got to come check out the Hood Canal. Book your stay now!
Cheers,
MS